Beep, beep, beep...back up the truck! I realize it's Christmastime, but I have to rewind to November and Thanksgiving Day. I loved the, "I am Thankful for" poster that Megan and Caity did, so I borrowed the idea for my own family. I hope M & C don't mind! Thanks a bunch! It's a neat idea.
Anyway, my family and I had tons of fun writing what we are grateful for. Some were serious, some spiritual, funny or frivolous. My favorites to read were:

*Lights (our power had gone out recently)
*Water (our water pump went kaput on us the day before Thanksgiving)
*The Gospel
*Turth (one of my kiddos misspelled the word, "Truth"....I love it!)
*Dinosors (my nephew is in love with the "sors"..hee hee)
*Vitatops! (hmmm...wonder who wrote that one)
*Camera to caught all our moments (again... one of my kiddos)
*Xbox and Wii (Mr. B of course)
*Miss Nelson (Mr. B's teacher at school...also a friend of ours)
*Jesus Christ
*Doors (Ugh...teenagers...she probably also wrote, "locks" on there somewhere too)



Miss M wrote soooo many things! What a grateful little girlie!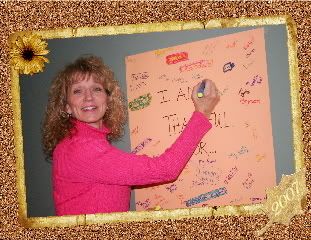 My sister Sheri who always has a grateful look on her face. She makes everything uplifting and fun. Of course I added her name to the poster :)